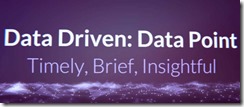 Frank came up with a great name for mini-shows at Data Driven: Data Points. These are shows we usually stream live to the Data Driven Facebook page and then convert to audio for posting on YouTube and the Data Driven website. As I type this, Frank and I just recorded a special "Thank You!" Data Point as we approach 1,000 downloads in 10 days. It should be posted soon and will join our two other Data Points:
[Data Point] Data Science and Cancer; and
[Data Point] Andy is on the Road Again
Our next show is scheduled for release late Monday / early Tuesday. Want to know who our guest will be? Become a Data Driver! Only Data Drivers get advance notice of Data Driven Podcast guests.
Thanks everyone for listening and making the show an early success!
:{>
Follow Data Driven
iTunes
YouTube
Twitter
Facebook
LinkedIn
RSS Feed
Learn More About Data Driven
Data Driven website
Episodes
Blog
Data Driver mailing list
About the Show