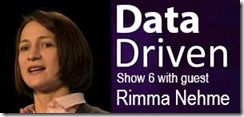 This week on Data Driven, Frank and I are honored to interview Rimma Nehme, CosmosDB Architect at Microsoft. We had a fantastic time chatting about CosmosDB, open-source, reading, and what (or whom, rather) Dr. Nehme finds really important. As always there are movie references: Blues Brothers and Spiderman are quoted this week.
Notable Quotes
Submitting to the PASS Summit 2017 (1:10)
Blues Brothers movie reference (3:50)
Data needs to be Everywhere (11:00)
Planet scale (16:00)
Spiderman reference (17:30)
Is this science fiction? (24:24)
Battle-tested. (25:30)
Open-source software analytics (27:30)
The CosmosDB simulator (32:44)
A little startup inside Microsoft (35:30)
Rimma found query optimization really, really boring. (37:45)
On family… (40:45)
CosmosDB is truly out of this world. (48:00)
On reading… (42:00)
Selling door-to-door (44:45)
The Data Driver weekly newsletter is your only source for future guest information prior to episode release. Sign up today!
Frank posts Data Science Daily each weekday. Check it out!
:{>
Follow Data Driven
iTunes
YouTube
Twitter
Facebook
LinkedIn
RSS Feed
Learn More About Data Driven
Data Driven website
Episodes
Data Science Daily
Blog
Data Driver mailing list
About the Show