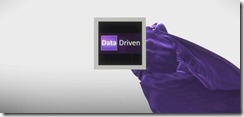 Wow!
We had a fantastic launch week for the Data Driven podcast!
Thank you to everyone who's listened (and everyone who will listen). I'd like to take this opportunity to thank our amazing guests: Jen Underwood, Nick Harris, and Lynn Langit. If you're thinking of launching a podcast, I highly recommend these three guests to kick it off.
There are more amazing guests to come, I promise. Become a Data Driver to receive our weekly newsletter – the one and only only source for advance notice about future guests.
If you'd like to join us as a guest on the show, please email me.
Reviews
We received our first reviews this past week and… more wow! While we don't expect all our reviews to be this positive (and 5 stars), it was encouraging to see these reviews come in first: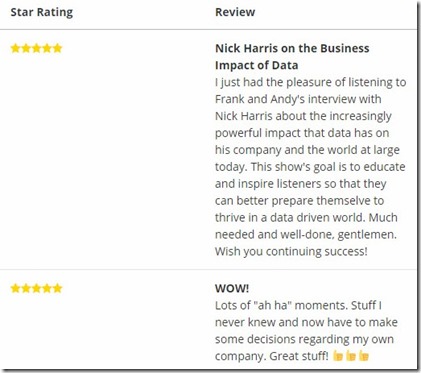 Frank
I cannot say enough good things about my excellent and cool co-host, Frank La Vigne.
Frank has worked tirelessly for months (you would be surprised to learn how much time it takes to build a podcast from scratch!) to bring Data Driven to life. No matter what, he keeps rolling. As we like to joke, "There are no brakes on the F train!" Frank, thank you!

Frank and I recorded a meta-episode – an episode about the episode. We called it Introducing Data Driven.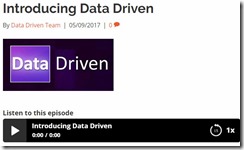 We plan to release a new episode at midnight every Tuesday.
The Data Driver weekly newsletter is your only source for future guest information prior to release. Sign up today!
:{>
Follow Data Driven
iTunes
YouTube
Twitter
Facebook
LinkedIn
RSS Feed
Learn More About Data Driven
Data Driven website
Episodes
Blog
Data Driver mailing list
About the Show