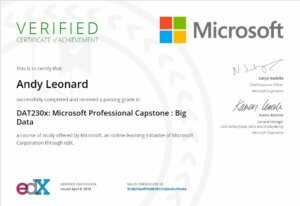 I'm excited to announce that I've completed – with help from my friend and brother and co-host of the Data Driven podcast, Frank La Vigne (Blog | @Tableteer) – the Microsoft Big Data Professional Program Capstone project!
The capstone is the last course requirement (of 10 courses) to complete the Microsoft Professional Program in Big Data. The official Professional Program certificate won't be available until next month, but I'm excited to complete both the capstone and the professional program.
Although there was some data analysis included in the courses and capstone, I found a lot of data engineering was covered in the curriculum. For people wanting to learn more about Azure offerings for data engineering – including HDInsight, Spark, Storm, and Azure Data Factory – I highly recommend the program.
You can audit the courses, gain the same knowledge, and pass the same tests Frank and I passed – and even participate in a similar capstone project – all for free. You only have to pay to receive a certificate.
:{>