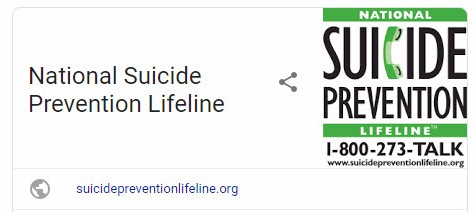 The holidays are a joyous and happy time of year. 
Almost everyone struggles in some way with the holidays, though. There are numerous posts about how to have difficult conversations with family who disagree with you on some matter or other – usually politics or religion.
For some folks, though, it's worse.
Some struggle with depression year round. The holidays seem to pile on with emotional overload combined with factors like longer nights and shorter days and colder weather that keeps people inside (in the northern hemisphere). 
If you know someone struggling with depression in any of its myriad manifestations, whether diagnosed or not; if you know someone who is just… down; please reach out to them during this time of year.
If you are struggling, you are not alone. 
If you are considering suicide, please reach out to someone. I'm here. You can reach out to me. If you cannot reach me, reach out to a friend or pastor, or call 800-273-8255.