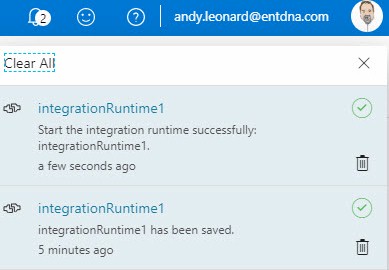 I had the honor to deliver "Moving Data with Azure Data Factory at SQL Saturday – Atlanta this weekend. Because Azure changes daily, I fired up an Azure-SSIS instance Integration Runtime the morning of my presentation and walked through my demo.
I play a game I call, "What's Changed in Azure!" It's a fun game.
What's Changed in Azure?
I noticed Azure-SSIS was running 12 minutes later, when I checked. That's down from 20-30 minutes in the past.
This morning I built a brand new Azure-SSIS IR – it still has that new Azure-SSIS IR smell – and it was built, deployed, and running in five minutes.
Kudos!
Kudos to the Sandy Winarko and the Azure-SSIS Development Team!
:{>