17 Apr 2020 UPDATE: You can listen to Stevie Ray share about his presentation (and more) in this episode of the Data Driven Podcast: Stephen Leonard on STEM and the Frustration Inherent to Engineering. Or you can listen right here!
I am honored and excited to deliver Azure DevOps and the SSIS Development Lifecycle at the (virtual) SQL Saturday – Richmond 25 Apr 2020!
Stevie Ray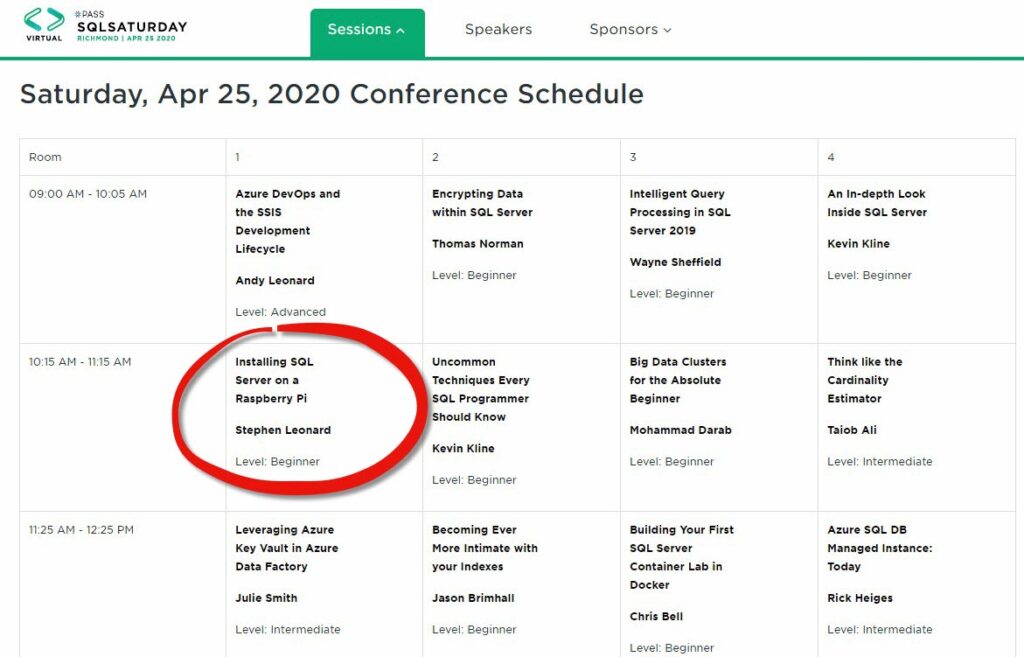 While it is always an honor to present, I am also excited to announce Stevie Ray is also delivering his very first presentation at SQL Saturday – Richmond. He has been attending community events with me for more than half his young life, now. Stephen approached me almost a year ago and shared, "Dad, I want to deliver a presentation some day. Can you help me with that?" I replied, "Of course! I regularly mentor others in presenting. I would be happy to help you!" I also told him I would not pull strings to get him selected to present; he would have to rely on his abstract and the description of his content. Just like everyone else.
I advised him on topic ("Pick something "shiny…"). We talked it over and he actually chose two new and edgy ("shiny") topics to combine:
SQL Server on Linux
IoT – installing SQL Server on a Raspberry Pi 3
He began working through this daunting – these daunting – challenges almost immediately. When he got stuck, he'd ask for advice. To his credit he never asked me to solve an issue for him, he asked instead for advice on how to approach the issue. I have to share: I had quite a few proud papa moments watching him persevere and troubleshoot and – more importantly – realize the frustration that accompanies learning a new technology is normal and that failing is a step on the path to success.
Stevie got a confidence boost when he led some sessions at a Sea Cadets technology training camp last summer. It was good timing, to say the least.
I'm proud of my older son. I'm proud of the man he is growing to be. I'm certain he will learn a lot delivering this first presentation! It's titled Installing SQL Server on a Raspberry Pi.
Register here for SQL Saturday – Richmond. I – and Stevie Ray – hope to virtually see you there!
:{>