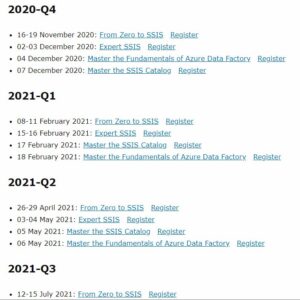 Want to learn Azure Data Factory (ADF) and SQL Server Integration Services (SSIS)?
The schedule for courses is available at the Enterprise Data & Analytics Training page.
Sign up for a Season Pass and Save!
ADF and SSIS courses are scheduled for 2020 and 2021. Choose the Live ADF and SSIS Class Season Pass and save money! You may attend as many deliveries as you desire for one full year!
Here's a summary:
2020-Q3
2020-Q4
2021-Q1
I hope to see you in one of our public course deliveries.
Need Help Getting Started or Updating SSIS in Your Enterprise?
Enterprise Data & Analytics specializes in training and helping enterprises modernize their data engineering by lifting and shifting SSIS from on-premises to the cloud. Our experienced engineers grok enterprises of all sizes. We've done the hard work for large and challenging data engineering enterprises. We've earned our blood-, sweat-, and tear-stained t-shirts. Reach out. We can help.