Occasionally someone will email or post a comment about how all MVPs are Microsoft shills. I'm sure I enjoy those comments about as much as the Developer Teams at Microsoft. Let me start by saying that's simply not true. In fact, it is completely off the mark – at least when it comes to the MVPs I know and with whom I interact. If anything, we are Microsoft's harshest critics.
Just last week, I sent someone at Microsoft an email with the following complaint (paraphrased):
I do not like chasing down stuff on the SSIS 2012 Control Flow. I click and try to move something, and it ends up in another time zone.
The most helpful tip was to make sure everything is visible on the surface before I attempt to move stuff – especially if resizing or moving items within a container. To assist with this, there's a helpful "Fit View to Window" button on the surface in the lower right corner: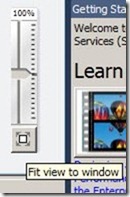 I have tested the advice and found it sound, so I thought I would share.
:{>