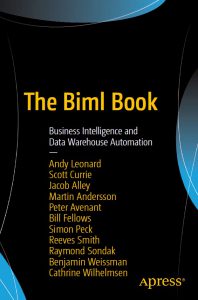 I regularly get email asking how to learn Business Intelligence Markup Language (Biml). I thought I would share one Biml learning path in this post.
Learning Biml is like learning any new technology: it's hard. You have to commit to spending hours "heads down" working through examples, viewing training material, and reading blogs and books. How many hours? It depends. In the past, I've shared my estimate that it takes about 40 hours to learn Biml well-enough to be proficient with Business Intelligence Markup Language. Because I believe it takes 40 hours to learn Biml, I recommend learning Biml on a real-world project that requires you to build 20+ SSIS packages using the same SSIS design pattern.
While difficult, it is not impossible. I know because I and others learned Biml, and we are all confident you can learn Biml too.
Let's get started!
One Biml Learning Path
To get started with Biml, I recommend the following learning path in the following order:
Please find video-based training for some of the material above at Biml Academy, some of which is free. Of the content that is not free, I recommend the Basic Biml Training course for three reasons:
Basic Biml Training is the best value.
The price will increase.
Enrolling in the course now grants you access to the course for its lifetime – including lessons not yet released – at no additional cost.
Be sure to follow Biml-related accounts on social media for the latest announcements regarding Biml and Biml-related content published by BimlHeroes and Biml users. Two of my favorite Biml blogs are Cathrine Wilhelmsen's blog and Ben Weissman's Solisyon blog.
Enjoy learning Biml!
:{>