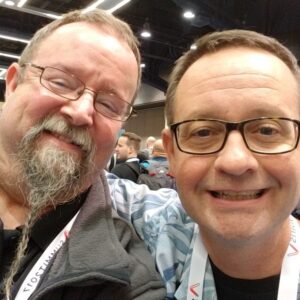 Update: Emily, Brian's daughter, has updated Brian's Facebook page with information about a memorial service 31 Jul. 
It grieves me to share that my friend and brother, Brian Moran, passed away late last week.
Brian was a gifted technologist and businessman. He built a career and reputation as a SQL Server expert through articles in SQL Server Magazine and other publications. Brian was involved in PASS leadership and helped found Solid Quality Learning, now known as SolidQ.
Brian joined me in a community effort called SQLPeople, and we later co-founded Linchpin People – inspired by the book titled Linchpin by Seth Godin.
Brian was my mentor, business partner, brother, and friend.
As many are attesting on social media, he had vast influence on the Microsoft data community. You may view an interview with Brian here to get a taste of his intelligence and general positivity.
I first met Brian in early 2006 when I presented on SSIS at NoVa SQL – now known as Northern Virginia Data Platform MeetUp, known at that time as the Northern Virginia SQL Server Users Group. Brian was leading Solid Quality Learning (US) back then, and a mutual friend had told me about SQL's business model (which I found intriguing). I had just started speaking around that time because my first book project had been recently released. I'd delivered a presentation on SSIS at one other user group the previous month and three people attended. Counting me. I expected SSIS just wasn't that interesting to others.
An overwhelming 125 people attended my presentation at NoVa SQL – including some SSIS power hitters like Erik Veerman. The short version is I delivered my hour of material in about 25 minutes and started taking questions, which quickly went over my head. Erik and others in the room knew the answers, so I pivoted from presenter to facilitator.
At the end of the meeting, Brian handed me his business card and my heart sank. I wanted to someday work at SolidQ and I had not put together Brian's name and SolidQ until that moment. I remember thinking, "I would have liked to work with these people. If only I hadn't blown this presentation."
A few months later, Brian called to offer me a consulting role affiliated with SolidQ. I was astounded and accepted. I told him, "I didn't think you'd ever want to work with me after I blew that presentation." Brian's reply was so very typical of him: "Yes, you blew the presentation. But you remained on your feet and led by pivoting to facilitator. The team here can teach you what you don't know about data. We cannot teach you how to lead on your feet like that."
As with many friends – and certainly with business partners – Brian and I shared ups and downs in our friendship. After I left Linchpin People in late 2015, both of us worked hard to reconcile our friendship. I believe – by God's grace – we forgave and mended our relationship as best we could, and we caught up afterward at conferences, events, and one-on-one meetings.
I will miss my brother and friend.
Rest in Peace, Brian.