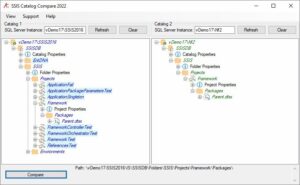 Update: SSIS Catalog Compare 2022 is generally available!
SSIS Catalog Compare 2022 (Beta) is available at a dramatically-reduced yearly subscription rate at the time of this writing. The yearly subscription rate will increase when SSIS Catalog Compare becomes generally available (GA). Those willing to help out by testing the beta version (in Development and Test environments only, please!) will enjoy the beta yearly subscription rate post-GA.
In an earlier video, I shared Using SSIS Catalog Compare to Migrate SSIS Catalog Folders.
In this video, I describe and demonstrate how to use SSIS Catalog Compare to compare an on-premises SSIS Catalog instance to an SSIS Catalog instance that serves as the SSIS Catalog for an Azure Data Factory Azure-SSIS integration runtime, hosted on an instance of Azure SQL DB. I then employ DILM Deployment Utility to migrate one SSIS Catalog Folder – including an SSIS project, environments (and environment variables), configured literals, references, and referenced (parameter) mappings – from on-premises to the cloud in a few clicks. Enjoy! :{>