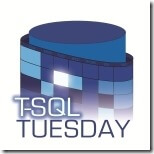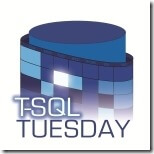 Thank You!
First, we owe a debt of gratitude to my friend Adam Machanic (blog | @adammachanic | Data Education) for starting T-SQL Tuesday in the first place. Thank you, Adam! Next, we owe a huge shout-out to Steve Jones (blog | @way0utwest | SQL Server Central) for carrying the torch by maintaining tsqltuesday.com. Finally, thank you to everyone who takes the time to author a post on their blog the second Tuesday of each month.
T-SQL Tuesday #111
The T-SQL Tuesday question this month: Why do you do what you do? I was honored to be asked by Steve Jones to serve as host. Thanks, Steve!
Although I should not be, I am surprised by the response. We are part of an awesome and enduring Community. There were 35 responses to this month's T-SQL Tuesday!
Some Stats
35 responses.
3 first-timers (welcome!).
3 female, 32 male.
The first reply was from Greg Dodd.
The last reply was from Chris LaGreca.
Every. Single. Post. deserves a read. Our community is filled with passionate writers. Enjoy!
To The Posts!
Hugo Kornelis built and maintains the Execution Plan Reference because it's not there. (You are welcome for the ear worm, good sir…). Doug Purnell enjoys helping and sharing with others, and he is also looking to cook more and spend more time on photography. Chris Voss is candid about being on the autism spectrum and volunteering with Autism Society of North Carolina. He enjoys working in healthcare because "it's an industry where the concern is the betterment of other humans' lives." Steve Jones enjoys having the time to give back by speaking, writing, and teaching; helping others in both paying it forward and paying it back. Eugene Meidinger leaves me hanging regarding ex-girlfriends in the section titled "Brothers and ex-girlfriends," and waxes philosophical with "why not becomes much more of a why."
Three individuals indicated this was their first time participating in T-SQL Tuesday – welcome! They were Greg Dodd, a fellow former VB coder whose "why" is that he enjoys solving problems; Jason Howie, a friend of Allen White who shares Allens' interests in music whose "why" is seeking an ensemble into which he can fit; and Michał Poręba, whom no one is paying to be a cave diver. Welcome to T-SQL Tuesday! We have cake (not really).
Lisa Bohn likes making a positive difference while working for someone she respects. Cathrine Wilhelmsen just so happened to become a Business Intelligence consultant. She loves using all her skills, helping people, and giving back to our community. Because I continue to learn from Cathrine, I am grateful. Glenda Gable likes helping others while settling into a career she really loves.
Andy Yun is a giver who enjoys helping others. Jason Brimhall's "why's" are challenges posed by SQL Server performance issues and his passions for solving technical challenges, learning, speaking, and writing. Wayne Sheffield says he likes efficiency and is lazy, which drives him to automate as much as possible. James McGillivray garners a sense of purpose from a job that allows him to be creative, logical, extroverted, and inquisitive, all at the same time. Jess Pomfret started her blog with a T-SQL Tuesday post. She loves a good challenge and desires to keep learning and growing.
Chris LeGreca loves technology, challenges, the creative process, and data – but deep down he's a nerd who does this for fun. Rob Farley believes better data facilitates better decisions and strives to make his customer's best a little better. Kevin Chant enjoys learning, SQL Server Community volunteering, answering #sqlhelp questions, and serving charities.
For Allen White, it's really all about you and helping you get more out of SQL Server. Bert Wagner was bored a couple years ago but now enjoys helping subscribers learn more about SQL Server each Tuesday. Todd Kleinhans' "why" is his love for others inspired by Christian faith. Arthur Daniels enjoys working with a great team, making the database better, and the challenge of solving new problems.
Rich Brenner loves SQL Server and the community that surrounds it. Drew Skwiers-Koballa's "why" is "the positive impact I can have on the company I work for, the careers of my teammates, and others in the technology communities." Matthew McGiffen is motivated by his belief that there's always a better way. Kenneth Fisher provides for his family but, in the end, loves what he does and enjoys several aspects of his career.