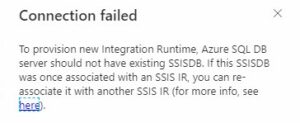 I was provisioning a new Azure Data Factory (ADF) Azure-SSIS Integration Runtime (IR) to conduct some testing and, when I clicked the "Test connection" link, I got a Connection failed error as shown in the red box: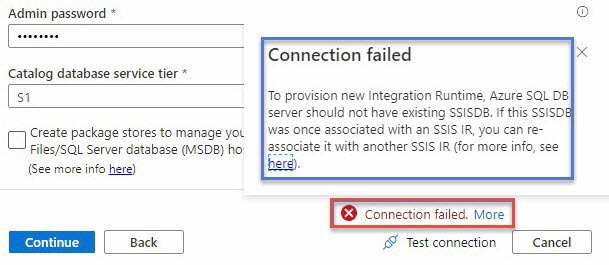 I clicked the "More" link to display details in the blue box
To provision new Integration Runtime, Azure SQL DB server should not have existing SSISDB. If this SSISDB was once associated with an SSIS IR, you can re-associated it with another SSIS IR (for more info see here).
I used SQL Server Management Studio (SSMS) to connect to the Azure SQL DB and – sure enough – there was an existing SSISDB database, just like the message stated: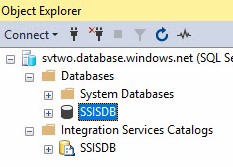 Since I was testing, I opted to drop the SSISDB database: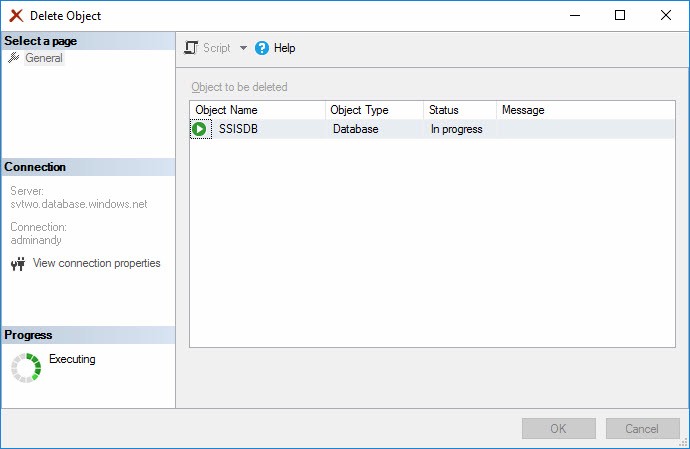 The suggestions I found in the Configure the Azure-SSIS integration runtime with SQL Database geo-replication and failover article are intriguing, though. I will test them at a later date and report my findings.
Learn More
Sign up today for Azure Data Factory and SSIS training to level-up your data integration skills!