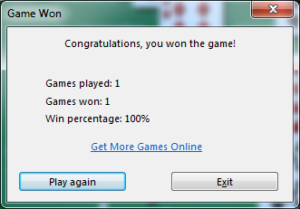 The following images (from FreeCell) illustrate a couple points about:
Net Promoter Score (NPS)
Experience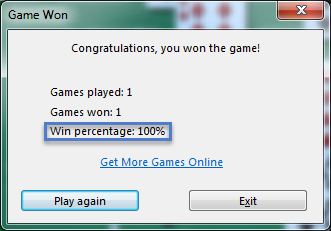 Image 1
For the purposes of this post, please imagine the FreeCell win percentage is our Net Promoter Score (NPS).
Image 1 displays a perfect NPS. But note something the NPS does not include – the number of games played (and the number games won). I refer to these kinds of metrics as "naked scalars." I find naked scalars all over the place. I choose to believe most naked scalars are based on integrity; they simply lack more data. I am aware that some naked scalars are intentionally misleading.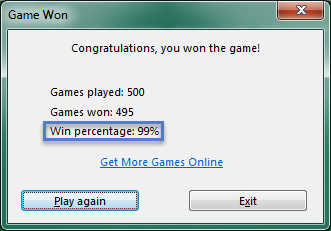 Image 2
Image 2 displays a less than perfect NPS. If the values in Image 1 and Image 2 are displayed side-by-side, displaying only the Win percentage (NPS), important data is not displayed. I can hear some of you thinking…
"Which Important Data, Andy?"
That's a great question. I'm so glad you asked!
The "games played" and the "games won" are important data missing from the NPS. While the win percentage displayed in Image 2 is lower, the (missing) experience is not readily available in naked-scalar-drive NPS scores. In this (admittedly extreme) scenario, the player represented in Image 2 has 495 times more experience winning than the player represented in Image 1.
Applied
As mentioned earlier, I choose to believe most people displaying naked scalars are doing their best. I might question their experience, but not their integrity. Thinking in this way leads to more thoughts and more data (see what I did there?).
Experience Matters when it comes to data – especially when it comes to data consulting. Lack of experience is not the same thing as lack of competence.
To cover those relatively few instances where someone is using a naked scalar to hide something about themselves (or others), take notes when interviewing a potential data consultant. If the potential data consultant mentions a competing consultant or company, you owe it to yourself (and your company [and your project]) to communicate with that same competing consultant or company.
When you hear from only one side, you are not getting the whole story.
Here are Four Questions to Ask When Hiring an Enterprise Data Consultant.
Conclusion
Please note: I am not the only – nor the first – person to recognize this shortcoming in naked scalars presented by NPS and similar ratings (stars, for example).
If you see a naked scalar, please realize there's always more data. Try to find out more.
Learn More
Join me Monday, 14 Nov 2022, for A Day of Azure Data Factory, a PASS Data Community Summit 2022 full-day pre-conference. Register today!
I'm presenting Master the Fundamentals of ADF at SQL Saturday Boston 7 Oct 2022. Register today!
Unable to make either of those events? Not to worry. Sign up today for Premium Level – All Recordings for 1 Year.